27-3-2020
Crisis situation here this morning .......
just finished the LAST jar of Pam's plum jam on me toast earlier
... she made 36 last year and somehow they all seem to have evaporated
WTF am I going to have for brekky tomorrow ?????
crisis averted ........ I looked meself this evening and found a few more jars hiding behind some tins so tha's brekky sorted for a few more weeks
pushed a slam post in with the 'Drema today, for the gate ... beats thumping it in ... pity the banks-woman ain't got much of an eye for upright ... should've gotten me self squarer on to it, so I could see for meself ... at 2+ ft in the deck it'll have to do
screwed a rest/support block on to assist in maintaining some semblance of shape to it ... look better when it's had a coat of brown ... when we can get some more
Whilst I was out on the drive, we pushed another five fence stakes in to replace some rotted off ones ... not my fence line, but it's our drive the damned sheep escape on to, if the fence isn't up to scratch ... didn't take long with the 'Drema doing the shoving in
they're actually more upright than they look there those gate posts have a hell of a lean on
new throttle control works a treat and doesn't seem to be presenting any issues to any of her systems .... warning lamp/bulb seems to have failed in the dash for the blade ... although the actual control function of the button still works and turns the solenoid valve on/off ... little investigating required .. hopefully the lamps are replaceable
a fully variable throttle is a novel treat
not seen this pair in ten days ... Vicki'd run out of GF bread .... and none to be found anywhere, so some of Pam's stocks had to be robbed from the freezer.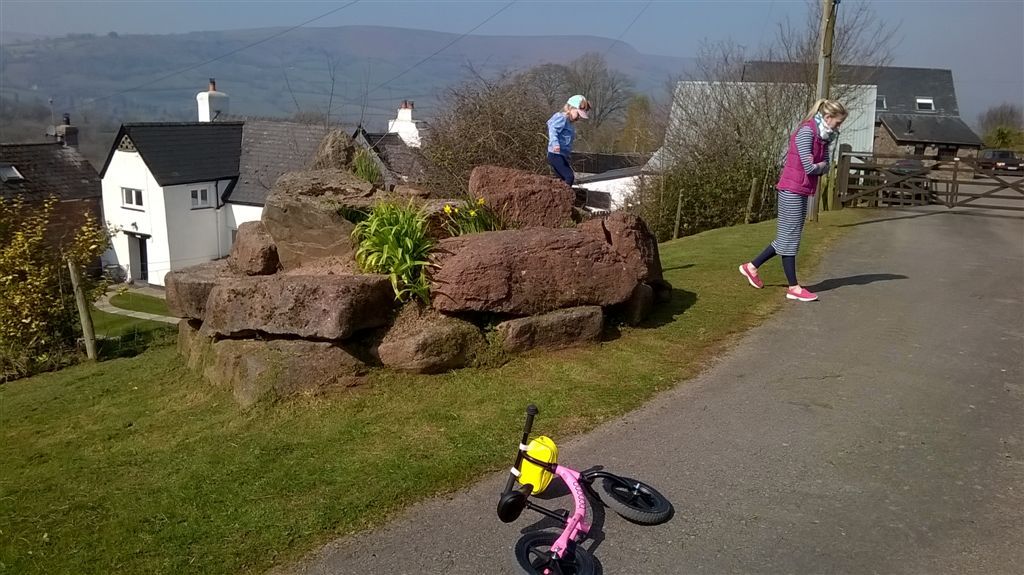 Clara was very good ... had obviously had it drummed in to not come to us ... stayed a good 20 ft away, love her .... not seen her on her little balance bike before and can't she go on it .... her bicycles are going to be a POP after .. really has the hang of her balance
great to see them ....... at a distance at least .... can you tell it was brrrr .. sly ol' NE wind this morning ... even with the sun, was 'kin cool
only invited visitors are coming past this .......
other-wise this is as close as they get
'nother day or so and that ground's gonna be Dane ready for some grass massacre-ing ...... better avoid the daffs though ... be in trubble otherwise
29-3-2020
spent some of yesterday 'in the tish' ... well forking it anyway ..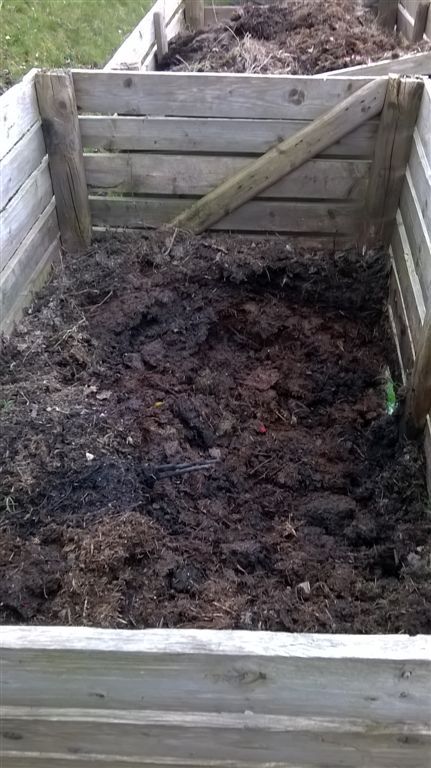 Pam had me turning her veggie boxes over ... so she could do for the weeds that grow like crazy ... ready for said tish ...
pity I can't get the Micron at these ... got a rake/fork made for that, for turning this sort of stuff over ... anyway ... three done, one is a strawberry bed and there's summat in no. 5 tha's staying ... apparently
the 'dead' fence posts got a seeing to .....
whilst I had this out,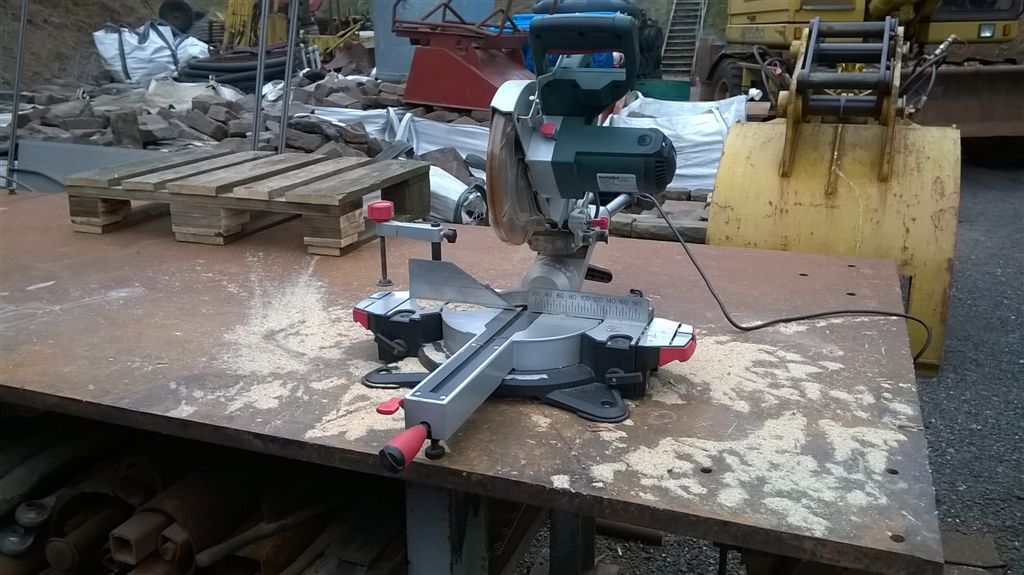 making good a half a pallet, that I'd used the rest of, to create a half/special pallet to go under me fuel tank, I acquired a while back.
Also got this little fella going .... again
after a bloody good strip/clean ... my fave little saw for a quick job revving like a good un
then I see the posty arrive and deposit summat in't letter box, far end of the drive
so.... suitably equipped with some gloves ... and the key to the box, I went to see if it was some belts I was waiting for ..
so ... key in box .. open front ... a letter .... from the local health authority ... glove time ... get it out, open it up four pages, two in Welsh ... envelope and the Welsh bits get screwed into a ball in me left hand ... letter in right ... no glasses so can't read the damned thing ....
now ... I can't (in theory) shut the box with a gloved hand .. or touch the key ..... dunno WTF has been handling said letter .... the balled up rubbish is gonna get enclosed in the gloves as they come off, inside out, but I still have this damned letter to hold
anyway took it back to the house and gave it some disinfecting....'least Pam did while I hung on to it outside, then the gloves went in the burning bin, which was lit already and we could get a look at ........ hell of a quandry though, about how to handle this sort of thing, especially in view of this one's source, too, ..... or anything that arrives TBH ??


Anyway ..... said letter was a bit of a surprise
twelve weeks FFS ..and as for all the other 'separation stuff' .... They'm a bit late with the advice ... and .......
Pam sticks needles in me every Monday .. gonna be bloody difficult at three paces
I can't wait to get tested for anti-bodies .. see if some of us had it in January ....
TWELVE ****ing weeks FFS!!
apparently so, Pam was reading somewhere this morning we can now sign up for the food parcel scheme!! ..... think there are more folk, in more need/more deserving TBH ....
Aside from being genetic, my Gaucher's doesn't really fit any of the criteria .. although my immunity is 'supposed' to be depleted/lower than usual, I've always been pretty damned good at not getting sh*t or fighting it off/recovering if i do ... and bear in mind that I was born with this ... 't ain't something new, just recently identified/diagnosed
Plus as I keep saying .... I'm pretty convinced that January's 'un-wellness' was this bloody virus ..... it all fitted the symptoms
It's the 12 'kin weeks that bothers me most ..... 's a long time .... wish I'd had a bit of sense and gotten some sand and cement in ...... might've developed enough enthusiasm to have a go at some stone work

would've been nice if me planings delivery'd arrived too ..... Russel could always have sneaked his crane in here some time ... that'd all have given me plenty to do