Finished off spiral wrapping the loom on the left side
- incredibly slow ol' job, for what it is, but worth the effort IMHDO, to protect it all
Also stuck a bit around the one Tee feed to give 'em both something to slide over, if they contact at all, in motion.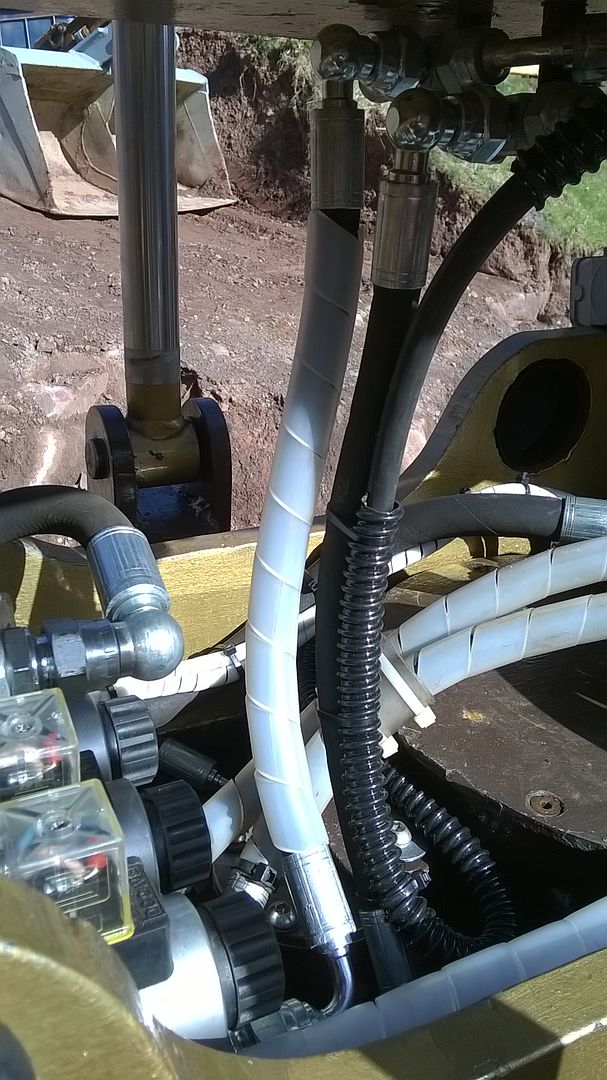 Then turned my attentions to that 3 ft bucket
that's been 'loitering' by my bench for a few days
but that was yet another story, as you know!

well it was
here one day last week
.
So much so, that I went and ratchet strapped the VA-r to the bench early in the morning,
in the pi**y wet rain that accompanied it.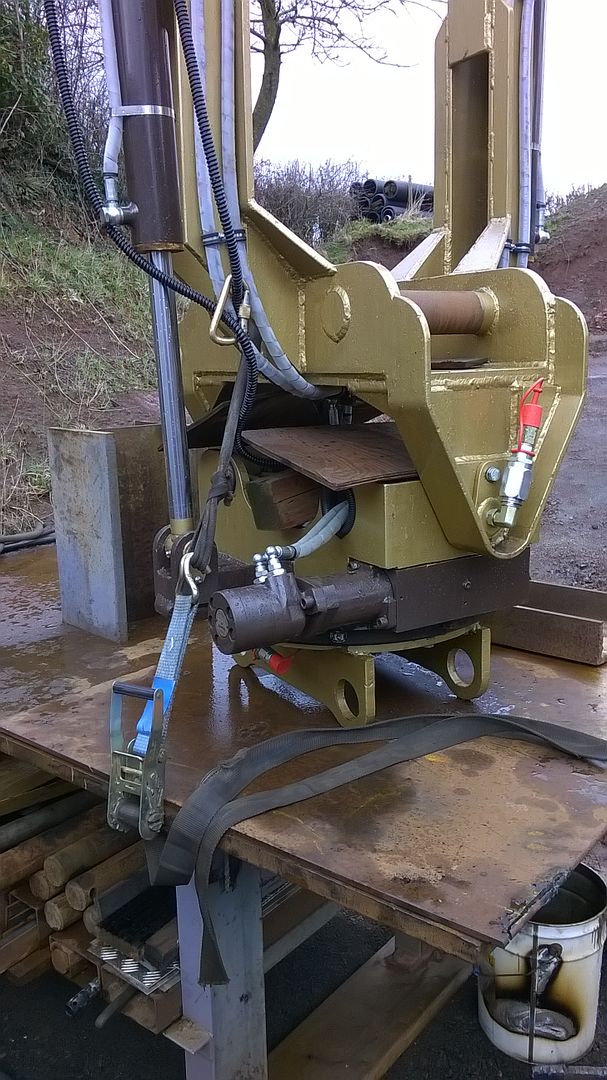 Would've been gutted to see it blow over,
off the bench. It's well top heavy,
sort of and a parking plate is an essential for it I think!!
Eventually stopped raining, but still mega-windy; 55-60mph gusts, to dry it out a bit.
So thought I'd have a couple of hours on a base plate
for the VA-r
spent a bit of a Sunday making up some brackets .....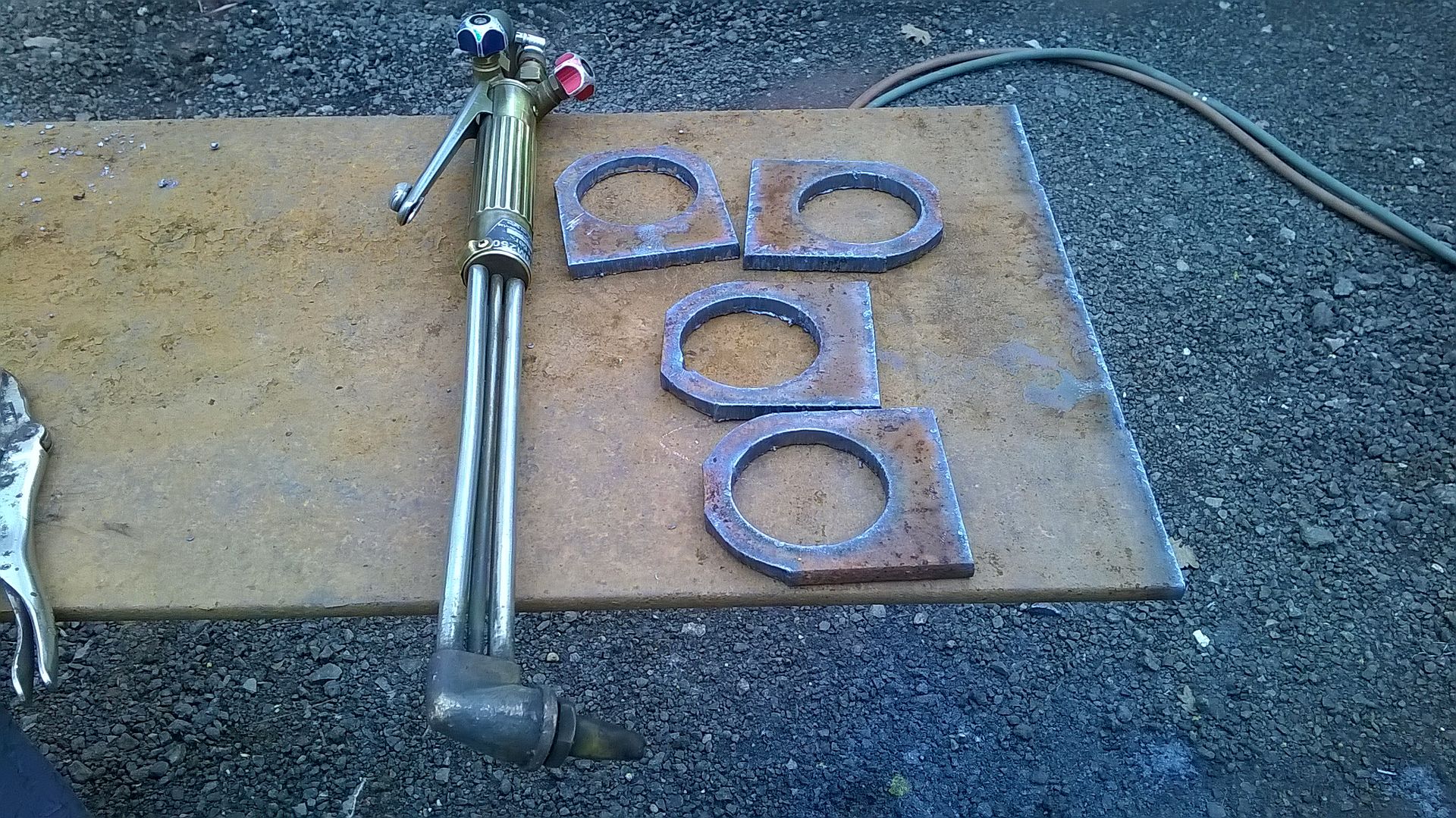 In deference to the neighbours
they didn't get cleaned up Sunday, so set about 'em Monday with the 5" and the die grinder.
After getting 'em cleaned up and 'decent', I set 'em out on the metre square piece of 10mm plate that got welded to the VA-r base for its original trip to Raglan for plumbing.
stitched 'em first and then firmed 'em all up
Although made and set out for the usual 70mm pins,
I've a few 65s sat about which are [
a
] easier to get in and out and [
b
] not in use on other things,
so opted to use a couple, as this is not going to be doing anything more demanding than keeping the ol' VA-r upright, when off the 'Drema,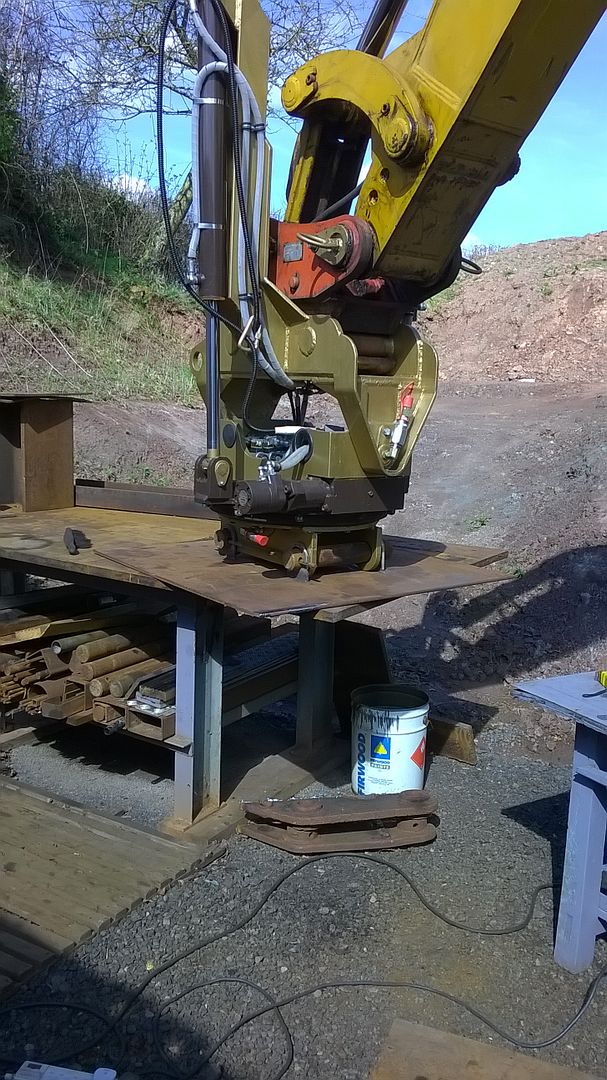 Didn't get carried away with the fit on this,
as a bit of slack'll be helpful for sure in the future use of this item.
Having thought about securing the pins for a few minutes
(they'll need keeping in place whilst it gets moved about) I opted for a simple solution,
which could easily be reversed if I ever wanted to use them elsewhere.
couple of crossbars one end
And some good old fashioned M16s the other
Might replace 'em with some big Lynches when i come across a few!





This should keep it safe and upright when not 'at work'!!





I've measured up the dedicated pipes for it, when

I had it on again,

showing it to my BIL (brother in law), after he'd asked how it was coming on





I've yet to give it a

maiden voyage

, with a tool pinned under it

and will most likely first try it with my forks,

as I have a particular job I need to do, which is why I originally started to build the rotater.





Apart from the next stage,

which is to build a quick hitch,

to replace the underside pin-on cheek plates

I also have a small modification I'd like to make to the main centre pivot pins





With it's current

set up, all the forces in a forward or backward movement are purely on one pin

,

longitudinally, as they are only captured on the outer face of the upper pivot plates.





I want to replace these pins with two that are threaded to take a thrust washer

and nuts inside the lower unit, to transfer the forces to both end pivots equally and hopefully will stop any tendency for the upper pivot plates to spread, under load.





As I no longer have my own lathe

currently,

I am going to have to get these made for me.

​



As I've already said, I've also been 'pottering' with a few other items, along the way, too and will try to put a few of these up shortly too.